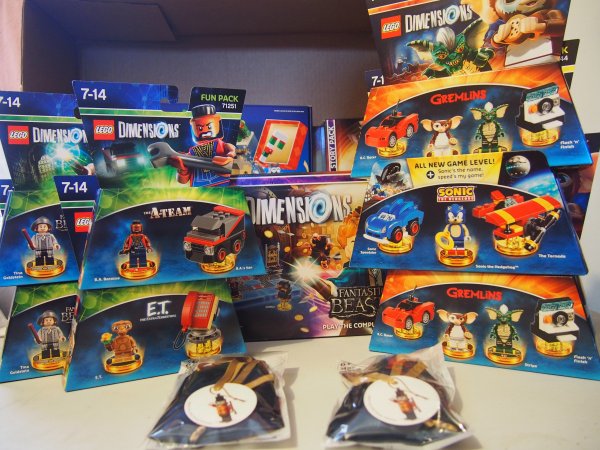 So - I recently got a score from Lego.com.
For those who don't know, Lego Dimensions is a console game (xbox, playstation etc) where you can use certain Lego figures and models to play the actual game.
For people that don't have the game itself, it's basically a way to collect Lego minifigs. You see, Lego gets some licenses especially for the Dimensions game, and that's the only way to get those minifigs.
Unfortunately it's an expensive way to get the minifigs.
The "Fun Packs" which contain one minifig and a small build (ET, Mr T, and Tina Goldstein from Fantastic Beasts in the photo above) generally sell for around $25 each. That makes for an expensive minifig, but it can be the only way to get them.
The "Team Packs" with two minifigs (ie the Gremlins one above) are around $40.
The Level packs (like Sonic) are $50 as they contain more game content even though it only has one minifig.
The Story Packs are the biggest of the lot and contain only a single minifig, but a lot of in-game content and a model that goes on the actual gameboard device when you are playing. They'd set you back a whopping $70.
So if you want both available characters from Fantastic Beasts, that's almost $100 for two minifigs (and a few small models you may or may not want).
Essentially you'd have to be a major fan of the figures in question to even consider it, and even then it's only worth it if you also play the game, and maybe not even then.
Now that's a lot of explanation just to set the stage.
You see - something went wonky on the Lego.com Australian shop. I don't know if it was an error or if it was some massive discounting that they didn't really advertise or what - but the prices for the newest sets were massively lower than normal.
I checked some of the other Lego.com sites - and it seemed to only be the Australian version of the store that had the discounted prices. The Yanks must have been kicking themselves.
The $70 Story Packs I mentioned earlier, well they were down to $16!
That's insane - especially for a brand new product - it had only just been released.
The older sets were still their normal prices, only the new ones were crazy cheap.
In addition, the team packs which are normally $40 were down to $13, and the Level Packs which are normally $50 were down to $10. That doesn't even make sense.
The $25 fun packs were down to $7, which doesn't seem like much of a markdown in comparison to the others.
This all coincided with my workmate wanting to place a Christmas order - so we easily reached the free shipping threshold - twice! That meant we could split the order in two and get two of the free gifts (they actually had two promotions so that was 4 free gifts in total).
I just wanted to take a photo of them all together before I break open the boxes.
For anyone who missed out, sorry - but the prices are all back to normal now.