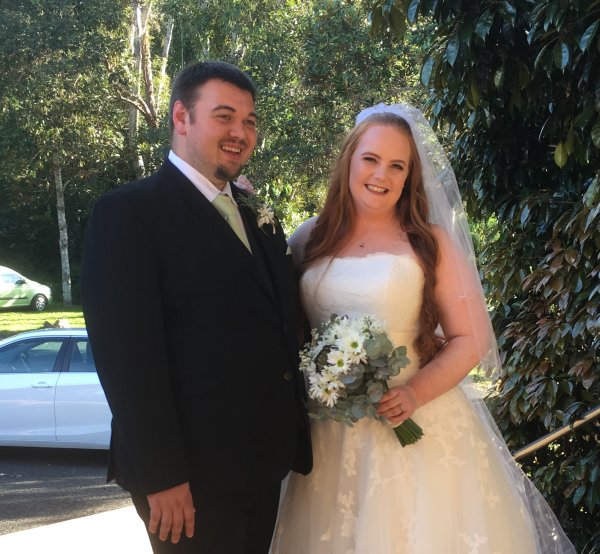 So my cousin (one of my best mates), Klutz, got married last weekend. He married Chrissie, who I only met just a few days before the wedding, but she's awesome and you could easily tell how in love they were.
Anyway - Klutz asked me to be his best man. I did a very poor job of giving a speech (sorry mate). Even after I finished rushing through the speech my hands were still shaking for fifteen minutes or so.
It's a much better speech in text than it was when I actually gave it. So below is the speech as it should have been.
Massive congrats to Clinton and Chrissie - you're both awesome!
------
Hi, my name's Rob.
A few months ago I got a call from Clinton asking me to be a groomsman. Of course I was happy to say yes, and secretly I was going "YES, HE DOESN'T WANT ME TO BE THE BEST MAN, I DON'T HAVE TO DO A SPEECH!"
Then a month or so later we were talking about suits and the difficulties of having even the closest groomsman over 170km away, not to mention myself over 2000 ks away back in Tassie.
As part of the conversation I asked who the best man was.
There was a pause - "it's you, didn't I mention that?"
So here is the speech.
Now, before I go on, I should apologise.
No matter how hard I try to say Clinton, I'll end up calling you Klutz.
I'm not sure where the name Klutz started, but Clinton has run with it and gone by that name online for many years now.
It's so prevalent that even my parents (his Uncle and Aunt) refer to him as Klutz, much to my sister's annoyance, who doesn't think it's appropriate behaving for an Uncle.
To me, you're just Klutz, even on your wedding day.
We've been mates for almost as long as we've been cousins.
And many years ago you told me who you were going to marry. You probably don't remember it, but I'm pleased to see you standards have improved. Chrissie is a much better choice than Sailor Moon!
Now Chrissie, when I was planning this speech back in Tassie, I was thinking about some advice I could give you about living with Clinton. I'd basically decided not to mention housework, because I honestly thought Clinton was pretty good at that. But then I stayed at his place for the last few days...
Klutz, you do know that the green bits in the shower aren't meant to be there right?
You may have your work cut out for you there Chrissie.
Now, I'm not sure who will be doing most of the cooking, but it might be good to know that Clinton's favourite vegetables are (or at least were) Ham and Cheese.
Now at least today there wasn't much chance of Clinton falling asleep in the middle of things, but at a regular church service, that was a real risk. And when Klutz falls asleep, it isn't quiet!
One of my tasks when Klutz was living in Tassie was to keep an eye on him when he was at our church and poke him when he started to snore.
Except one time at a church camp where he ended up sitting on the other side of the room. The people there didn't really know him very well and weren't game to wake him up when he started to snore.
The minister looked a bit annoyed, but raised his voice and kept going with the sermon until someone eventually gave Klutz a poke and woke him up.
The point of all this is, it's now your job to keep him awake in church, and I hope you're a deep sleeper.
You've probably already noticed this, but sometimes you have to tell Klutz the same thing over and over again before he gets it.
Don't drive on the lawn Clinton.
Don't drive on the grass Klutz.
And sometimes you just have to tow him out after he's driven on the grass and gotten bogged. And the wheel ruts last for years.
But he does get the message eventually.
I've known Clinton since he was born basically, and I've known Chrissie since Wednesday, but they're an awesome couple.
So Chrissie, welcome to the family.
And Klutz, massive congrats, Mate.
To Clinton and Chrissie!