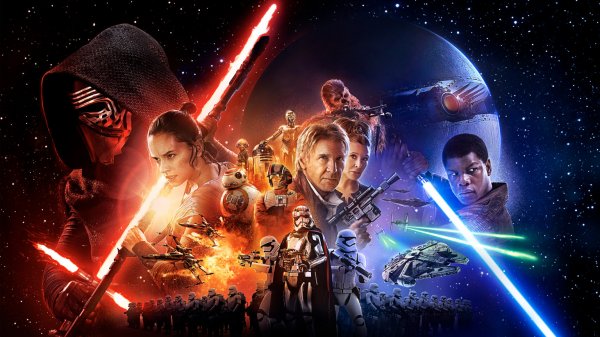 There has been an awakening...
It's the morning after Star Wars Episode 7 finally came out. I was at the midnight showing with a couple of mates.
The movie isn't perfect, but I really enjoyed it.
Now, it's going to be hard to mention anything without heaps of spoilers, so I'll keep this nice and short.
I'm still a little bitter that Disney have wiped the slate clean and entirely ignored the Star Wars Extended Universe that had been created by thirty years worth of books. I was really invested in that universe, but it's no longer considered canon, and the movies exist in an entirely different timeline.
That said - it you're going to start again, I thought Episode 7 did a very good job.
Kylo Ren is the new bad guy. I won't spoil who he is - but he's a very different villain to Darth Vader. He is extremely powerful, but he also doesn't appear to be very well trained. His anger may make him powerful, but it also causes him to lose control. He's far less stable than the dark Jedi we're used to.
For the most part the effects are great and feel like they belong with the original movies. Unlike the extremely CGI prequels, Episode 7 has a lot of practical effects and creatures. And it's so refreshing. CG is awesome, but it doesn't have the same feel. With the exception of the creatures in the freighter at one point (which were very CG and didn't feel right) the rest of the effects seemed spot on. This is of course, after a single viewing, I might change my tune slightly after watching it again.
The biggest disappointment was the 'threat' and final battle. It was very familiar, something we've seen twice before. I think I can mention it without anyone complaining, because it was on the poster for crying out loud. The First Order (bad guys) have built something called Starkiller Base. That's a pun on the fact that Luke Skywalker was called Starkiller in a very early draft of the script for the original Star Wars - but it's basically another Death Star. It's different, but the same. It's not bad, but it would be nice if they'd thought of something different. It felt a little underwhelming story-wise, and although it's more powerful than the Death Star, it felt less threatening.
But the personal conflicts and battles happening within that final battle were brilliant. I can't say much here without spoilers, but it was very well done. Likely to cause some contention though.
I'll certainly watch it again - but at this point I'm happy to say it's better than the prequel trilogy. It may not be pefect, but JJ Abrams has proved that he's better at capturing George Lucas's magic from the original trilogy than George is himself.
May the Force be with you - as we wait for Episode 8,